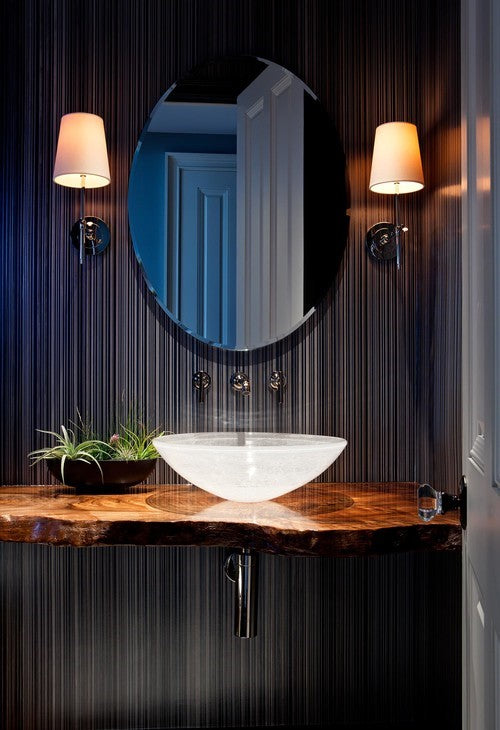 Glass vessel sink—The secret weapon to modernize your bathroom instantly
If your home needs a refresh, a high-impact way to create the modern vibe you are looking to achieve can be accomplished by updating a small bathroom with glass vessel sinks. You do not need to go through the hassle and cost of completely gutting the room, and the satisfaction of a new look can be yours quickly and easily!
These beautiful pictures were provided by www.houzz.com, a great resource for coming up with stunning design ideas.
When You Are Looking for Wow-factor
If you have a small bathroom or powder room set aside primarily for guests, this is a great place to inject a pop of modern style that might be a little too much to look at or maintain every day in a high-functioning master or kids' bathroom. You can provide a stunning backdrop by playing with a bold color of paint or trying out some modern removable wallpaper.
In this example, the countertop is a gorgeous piece of live-edge wood, but the beauty of a vessel sink is that it can work with any material. If you prefer stone or tile, or would like to repurpose an antique dresser, glass vessel sinks can work with any style preferences. Play up the design by choosing fun lighting or a mirror with a lot of character.
Your guests will be talking about your beautiful bathroom for a long time to come!
When You Need More Counter Space
One of the tricky things about a small bathroom can be how to get enough counter space to go through your routine effectively. A great benefit of using glass vessel sinks is that they take up much less of the available countertop space than a traditional integrated or undermounted sink.
Whether you want a bit more acreage to set your shave kit or makeup and styling tools, or if you just like the look and feel of a more spacious countertop, the graceful lifted curve of a glass bowl squeaks in those few critical extra inches.
In this example, even more space was created by installing a wall-mount faucet, a stylish option that is not commonly seen and will set your bath space apart.
When the Counter is the Star of the Show
If you are going to invest in a show-stopping piece of natural stone, it makes perfect sense to highlight every speck of it by installing a clear glass vessel sink. In this picture, note how the beautiful blue color palette of the agates are picked up by the blue edge on the sink, a subtle characteristic of clear glass.
Using a clear glass sink is also a great choice if the room is so small, you need to create a sense of airiness instead of blocking the flow of light with chunky structures.
If your bathroom enjoys natural light, a sunbeam pouring through a window will create interesting patterns of light and shadow on the countertop, which can elevate even the most neutral stone into a work of art.
Adding Character with a Can of Paint and a Sink
If your bathroom is basically in good shape and the more permanent fixtures and finishes are solid neutral colors, consider implementing a huge visual transition in a weekend with a bold paint color and a glass vessel sink to complement it. Throw in some fresh towels and even a coordinating orchid—easy!
You will have to update your countertop as well to accommodate the new plumbing cutouts, but for a relatively low cost, amount of effort, and minimal time you can feel as though you remodeled the entire room.
If you are not sure where to go for your new color palette, take a cue from the existing room (in this example, the mosaic accent tile in the shower is a great starting point).
When You Want to Make a Style Statement
Many homeowners are concerned with a good return on investment when remodeling a bathroom, and give up on their wish list or favorite colors in lieu of the safe path of neutrals and broad appeal. If you know you are going to be staying in your home more than ten years, it is safe to select materials that will make you happy every morning when you see them. You want to enjoy your investment!
In this example, the homeowner went all-in with a refreshing aqua color scheme with the shower tile and vanity cabinet. The glass vessel sink anchors the color decision with a deeper, more saturated color that would feel like a treat to use each morning and night.